Ericka Engelman Couture has evolved over 35 years. What started out as a 500 square foot brick and mortar custom clothing salon has now matured into a custom clothing private client altier and online store featuring her one of a kind clothing.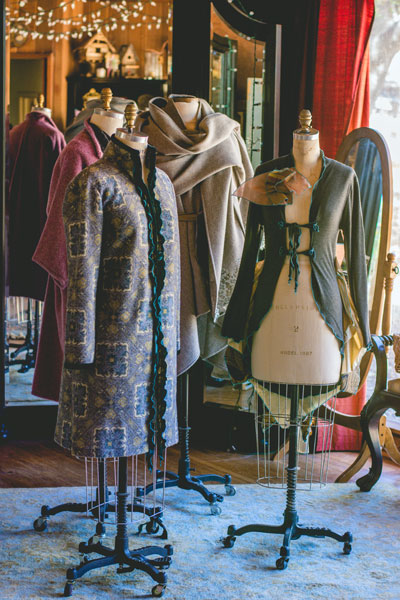 My story actually starts when I was about 5.
As a chubby child just starting kindergarten, back to school shopping was disheartening. The shopping experience left me feeling ugly and confused. "Why don't they make pretty clothes in my size?" My mother always optimistic and resourceful got out her sewing machine a "whipped "up a few dresses for me. It seemed like magic!
My early endeavors had me wearing curtains (it was the fabric I had on hand), jeans skirts out of old Levis and haunting the wonderful second hand shops of LA in the 1970's (renew, reuse, recycle is not new). I would take what I had in hand and create wonderful things for friends and family. When it came time to decide on a career, Fashion design was the logical choice and the Fashion Institute of Design and Merchandising of Los Angeles was the college for me.
As fate would have it right after graduation my then boyfriend John (now husband) whisked me away on his motorcycle for a little trip up the coast of California to the Monterey Peninsula. Here is where we landed and here is where we have made our home for the last 38 years
My business started on the front porch of our tiny house in Carmel. It quickly grew into a brick and mortar shop with 1 employee. Since that start I've grown into larger salons with multiple employees, shrunk back down to a smaller salon with just me sewing… a few times. But my guiding principle has remained true. "To make beautiful creative clothes for women that really fit."
Now I'm recreating my business model again.
I no longer have a brick and mortar store. I create out of my home with the help of a few talented individuals. I work one on one with my clients. Designing for and listening to their specific wants, needs and desires. And for my pure creative enjoyment and I hope, yours, I now have my own online shop. Filled with one of a kind pieces that will enhance anyone's wardrobe.
The magic of being able to create something beautiful out of an idea, a thought. A garment that enhances and elevates a woman's body that makes her look and feel special. That is what drives me, what gives my life purpose.